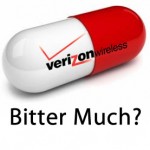 First let me start off by saying that I have been a Verizon Wireless customer since it was called Bell Atlantic Mobile.  That was more than 15 years ago maybe closer to 20 and I have always been very happy with the services and products until yesterday.
June 23 my contract ends and I get a new phone!
Gosh there is nothing better than "new phone day"  I had a dandy one all pre-shopped and ready to go so I went to NTX Wirless in East Stroudsburg, PA to get my new phone.  Sadly instead of asking for a DROID MAXX I asked for a DROID X.  A mistake on my part to be sure.  The nice man there told me we don't carry those they are not popular.  This kind of shocked me since I have a DROID MAXX now and just wanted the new 3rd generation of this phone.  Again I made a mistake but you would think a SALESMAN would try to SELL me something!  You know ask me what I wanted in a phone.  Instead he just looked at me for a long uncomfortable time.  I asked if this was a corporate store he said no they were a premium reseller.
The Correct Customer Service Answer:
I am sorry we don't have the phone you asked for in stock but we do have many other choices perhaps one of them might suit your needs.  What is most important to you in a smartphone?
Now had anyone asked me that I would have told them first off long battery life.  The phone I ACTUALLY wanted has the longest battery life on the market and the salesman would have recommended it and I would have laughed and said "Woops that is what I wanted in the first place"  We all would have laughed and I would have been on my way with a new phone.
Lesson learned:  Sell the customer what he needs when he doesn't know what to ask for.
Off to the mall!
I called the store in Stroud Mall – they had the phone and I was off.  I asked the man why the phone I wanted was so unpopular.  He said "It is a plain box phone" and in discussion we determined I had asked for the wrong item.  Once we determined what I wanted he then informed me that my unlimited data plan would be lost if I upgraded my phone (A real incentive to NOT upgrade BTW)  He rudely told me if I didn't like it I could call Verizon.
The correct customer service answer:
I am sorry that Verizon doesn't have the plan you are used to but how about we take a look at your data usage and see if we can get a plan that will meet your needs.  I would hate to loose you as a customer.  Sometimes customers with unlimited plans don't even realize how little data they actually use.
We would have found out I never go over 2 Gb of data a month and could have had some choices that indeed would have met my needs.  To just blow off a customer is a sure way to loose a sale and a long term customer.
Lesson Learned:  Offer the customer choices you may have one that they will like.
Call #1
So I went home and called "customer service" Where I was told that I could get a 2 Gb plan and unlimited talk and text (I don't do much of either) I told the young lady I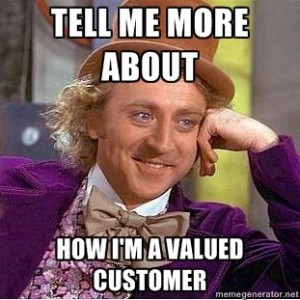 was going to shop around.  You would think she would pull out the big guns then to try and keep me on the phone and save the sale.  Not so.  So I went out shopping and found other plans but they seemed all about in the same line.
The Correct Customer Service Answer:
Wait sir before you hang up let me research other options we might have for you. -OR- Let me put you through to customer loyalty / retention they may be able to find other options.
Had she done this we would have found out about the soon to be Verizon MAXX plan and I would have bought on the spot
I called back!
Enter Mario!  The single worst CSR I have ever done business with.  He might have done well in the Spanish queue but was nearly impossible to understand to me.  He was quick and abrupt with me obviously wanting me off the phone.  He did not know the product and made a technical error in it's description to me.  Worse yet he kept putting me on hold for more than half an hour.  "Sorry I have to go Mario just cancel everything I said."  Mario tells me the phone has been ordered!  I was like umm excuse me but I never agreed to it nor have you read me a TOS nor gotten an acknowledgement that I am even me.  Plus you can't seem to find this plan that the last girl said she would put me in.  I hung up.
Management Tip:  
Mario should not be working on an English speaking queue to begin with.  Sorry but I was born and raised here.  I love Spanish people but not on the phone.  I can't understand them.  When I spend American dollars I want a CSR that speaks English I can understand.  That being said he also needs to be re-trained there was so much wrong with this call I don't even know where to begin.
I called back – Hi Tammy!
Well I finally get a CSR who is on the ball enough to get me both the phone and a plan with 6 Gb of data which will be enough for me and at the same price.  YAY – trouble is I got to send her an email when I get the phone and she is going to call me?  This all seems rather convoluted and I have a bad feeling about it.  BUT OK lets do it!
Customer Service Tip:  Close the darn sale right then and their.  Regardless of anything else I could have slipped away and as it turns out I should have.  After all the run around why do we need to mess around with e-mails and phone calls?  As it turns out the ball would be dropped again.
I get an E-mail
Whoo hoo!  I get an e-mail and find out that I have been put into a plan I really don't want.  I figure Tammy will fix this after we talk later in the week.  I check the status on the order on the web – says there I have to talk to security?  About what?  And could we not have put this in the email?
Then I ask to speak to someone in Customer Retention.  Well yes sir Mr Cook I will transfer you and here is the number in case you get disconnected.  Well guess what?  The number you gave and transferred me to was a disconnected number.
Customer Service Tip:  When you have a very frustrated customer you make darn good and sure they get to speak to some one when they want to complain.  To transfer to a dead number just makes matters worse much much worse.
Sadly the phone service is out
Yupp No service at all for anyone in my area.  No place to call even if you have a home phone.  I finally get a hold of Security and they ask a bunch of questions.  They tell me it is standard (so much for Mario and his phone that was being sent or for Tammy)  I ask to speak to customer retention – they give me a disconnected number at Verizon and transfer me to it.  NICE!  I am looking for some one to tell how lousy my experience has been and they send me to the dead letter office.  Way to go Verizon!
Tech Tip:  How about having a number to report outages to?  Or a website that is monitored by Verizon staff?  How about tech support 24/7?  There are so many places we could have done better here and yet we chose not to do any of them!
The Twitter Caper
Apparently Verizon has a Twitter account – mind you they don't answer it.  I can clearly see a pattern here.  You send us money and we throw you to the ground.  No one is listening and no one cares.  So tell me does anyone have the number for AT&T?
 Customer Service Tip:  Darnit really Twitter?  I thought this was the phone company.  The highly trained people on the other side of twitter were really good at saying they were sorry but not very good at actually doing anything about it.
The Phone Arrives!
Like a good soldier I e-mail Tammy.  You remember Tammy right?  The one who was going to fix it all up and make it better?  I get an email back at the beginning of her shift telling me "Our systems are down".  Now I figure how long can this go on for really I mean they can't process orders with the systems down right?
I made 2 more customer contact points with Tammy and seems like "the systems were down" until after her shift ended.  Right now I have an activated phone with who knows what kind of plan on it.  I sure don't!  Honestly a system being down for an entire day in a company the size of Verizon should be national news.  One can only imagine the millions of dollars that they must be loosing.
Tech Tip:  If your IT department is so bad that they can't "get the system back up" in an hour or two FIRE THE IT MANAGEMENT AND GET PEOPLE WHO KNOW WHAT THE HECK THEY ARE DOING!
On to Day #5 of what should have taken less than 30 minutes on Monday
No matter what the outcome of this – I will be doing the following
1 I will forward a copy of this Blog to the highest level of management in Verizon.  I am not sure they know how bad the customer service is especially since I have yet to get a single customer satisfaction survey.
2 I will NOT be using Verizon when my second line goes off contract and will not renew with this one either.
3 I will ensure that everyone I know in person and on Social Media hears about this.  I am not the biggest fish in the sea but you know with thousands of followers between my radio show, Facebook, Twitter and YouTube I am sure I can get a few people to listen.
Hey Verizon can you hear me now?